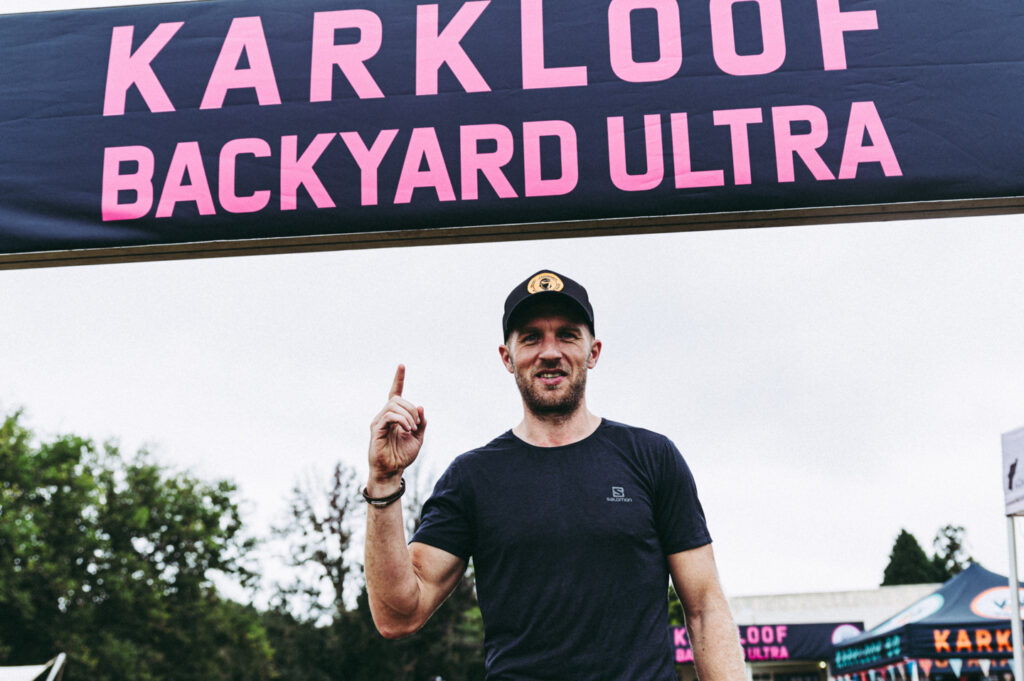 Race Wrap-Up From the Inaugural Karkloof Backyard Ultra
The 2021 Karkloof Backyard Ultra finisher was Matt Dove, who finished 23 Yards (154.1km). The race started on Friday 2 April at 2pm from the Karkloof Country Club in Karkloof, KZN, South Africa. It finished on Saturday 3 April at 1pm.
Matt is no stranger to endurance running, with his longest race being the gruelling 450km Tours de Glacier. He also has a Comrades Silver Medal to his name and has completed numerous ultra-marathons both on the trail and the road. The Backyard Ultra proved a different kind of challenge; the breaks between yards are not quite long enough for a nap, and not quite short enough to keep the momentum going.
Nevertheless, Matt ran a crazily consistent race. His calculated pace saw him start closer to the middle of the pack than the front, and he only took the lead towards the very end. In fact, if this were a different kind of format, Matt would have achieved a convincing negative split.
Another consistent runner until Yard 22 was Ruan van der Merwe, who led each Yard alongside Andrew Erasmus, who pulled out at a planned 120km. In what came as a surprise to most spectators, a seemingly strong Ruan pulled out with Achilles issues. Greig Rapley, who had been hanging in there but looking haggard for a while, also decided to call it. And, just like that, we were down to two!
This left the race wide open for Matt, who clearly had an edge over his last competitor Lloyd Sithole, who had been threatening to DNF since the early hours of the morning.
The surprises didn't stop when Lloyd came back with fighting talk to take on Yard 23. Matt returned after Yard 23 in his usual 39 minutes, and spectators waited to see if Lloyd would be coming back for more punishment. He emerged from the forest and onto the field with 10 minutes to spare, but it turns out that he had taken a short cut and decided to walk back to the corral with a DNF to his name.
According to his wife, Mel, Matt has been in high spirits, with no complaints the entire race. "Oh, wait, he did rub some Deep-Heat into his knee," she says.
So, there you have it folks; Matt Dove is the only finisher of the inaugural Karkloof Backyard Ultra. Congratulations and well done to all those who took part. For many (including the organisers), it was their first Backyard Ultra. The elements added to the day's drama, with searing heat, a sensational storm and a 5-hour power cut in the middle of the night.
https://www.karklooftrailseries.com/
Full album and race updates on the Karkloof Trail Series Facebook page: https://www.facebook.com/Karklooftrailseries/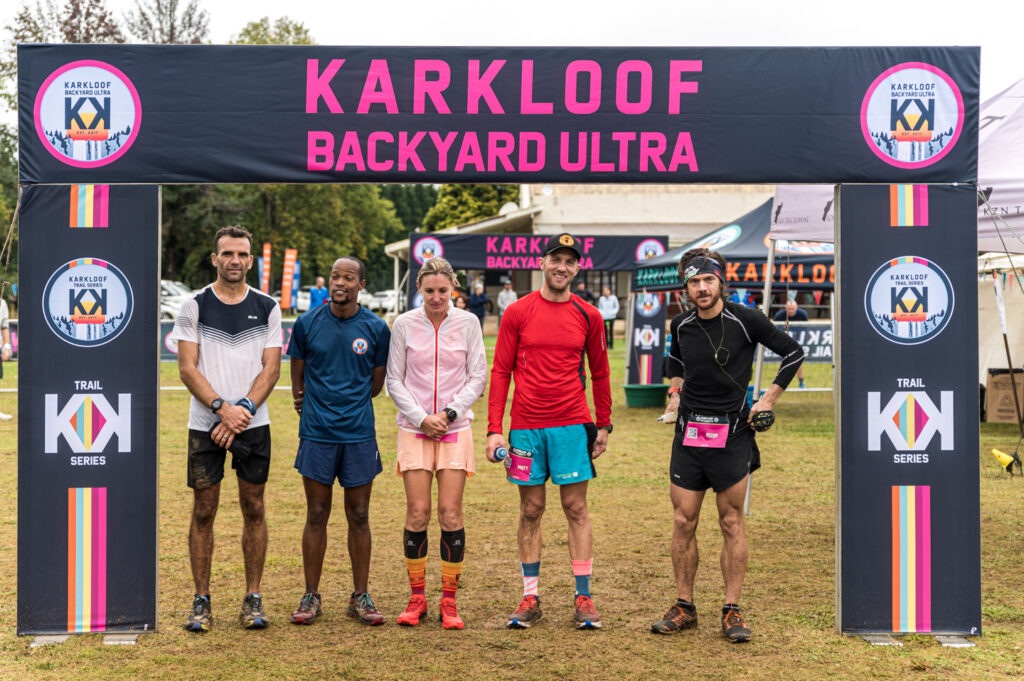 A wrap-up from the Race Directors
Dear BYU Runners,
Thank you for joining us in our backyard. What a weekend it was for all. It really is a fascinating format of racing, and one that we are sure will grow on us. Thank you for putting your faith in the Karkloof Trail Series team. We had so much fun in the Backyard.
A lot of challenges were thrown at all of us this weekend, as runners, crew and organisers alike, but we all dealt with everything so well.
Well done to each and every one of you, on your laps of the backyard. What beautiful backyard it was.
Matt, as our only finisher, showed us that class is permanent, and I am sure you will all agree that having such a great guy as our champion is a real honour.
A lot can be said about Lloyd, the "Assist". A real fighter and incredible to see him dig deep at the start of each yard, and get himself back out there.
But to each and every one of you, you all had good yards and bad yards, you all had to deal with your own battles, you all had your own goals and aspirations to work towards. Hopefully, Karkloof Backyard Ultra helped you in achieving some of those goals.
It was an honour to have you all there with us over the weekend.
We are looking forward to this event growing in its own special unique way.
On to the next event of the Karkloof Trail Series, the Trail Marathon. We hope to see you all back in the "Backyard" on the 20th of June for a more traditional approach to racing! It's going to be a goodie!
Take care, rest up and see you all soon.
Kind regards,
Andrew and Jack