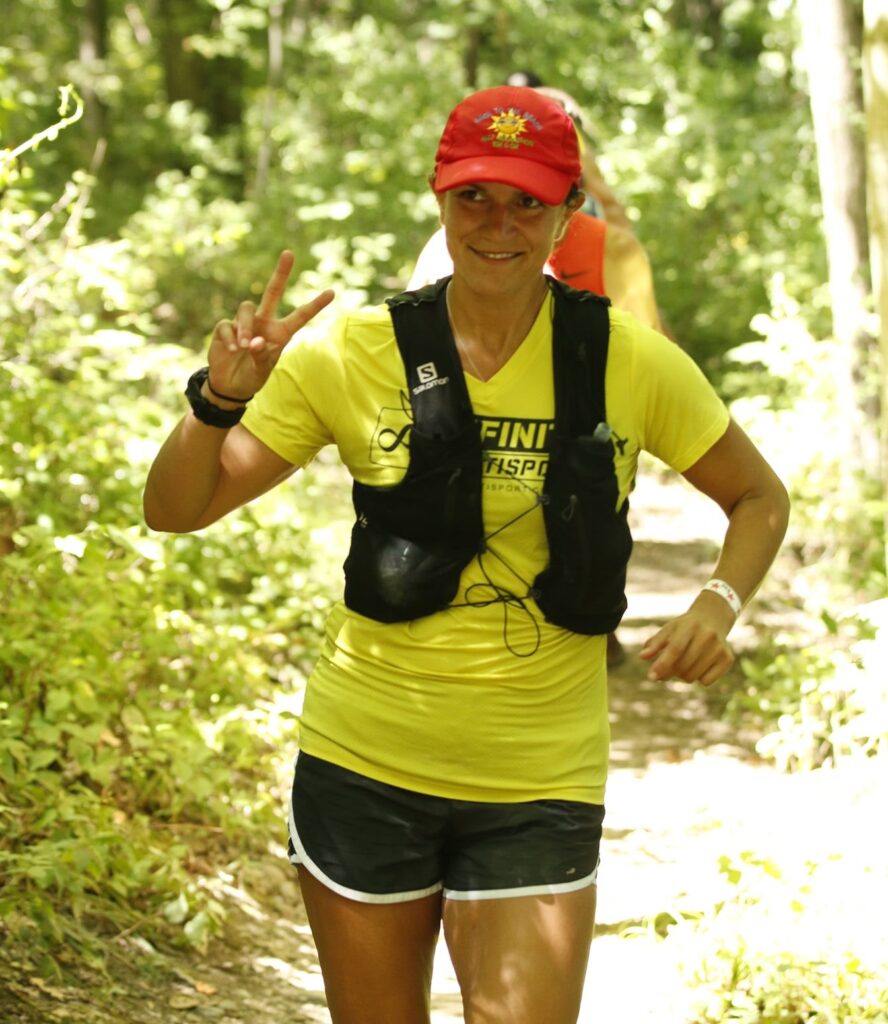 Two in a Row for Sarah Moore!
Sarah Moore, from Royal Oak, Michigan proved that 2019 was not a lucky win at the Ode to Laz ® Michigan Backyard Ultra. She claimed her spot as the 2020 champion running 28 loops, assisted by Ohio native Mike Rowe.
The trail conditions at Holly State Recreation Area were excellent despite a 1-hour start delay due to nearby lightning. The clouds and short drizzle moved away, giving the hard trails a bit of cushion. This provided a beautiful day for running with mixed sun and clouds and 20C temperatures at the start. Race day had been moved 1 month forward due to event cancellations related to the COVID outbreak. Despite this change, and international and domestic travel restrictions, 53 runners out of almost 150 registrants were able to start the race. The racers, crew and volunteers maintained a great attitude in the face of these 2020 challenges and were rewarded with a fantastic experience once again in Southeast Michigan.
Two new start locations were used by the competitors. Scenic Overlook picnic area just above the 'stairway to heaven' and the wooded Oak Flats picnic area south of Valley Lake were hosted by Complete Runner and Vantage Point Endurance. The smiles were abundant and the mood was festive at both locations. Each group of runners developed a friendly rivalry as the day progressed. 20C temperatures made for excellent running at the start and peaked at 25C by the afternoon. 24 runners, split almost evenly from both start locations completed their 12-hour 50 miler. By the 13th lap, 22 runners started chasing the night on the curves and rolling hills of the peaceful, closed park road.
The weather stayed calm through the night, dropping to a comfortable 15C, but the miles took their toll on the field. Only 13 were active on loop 16, and 8 runners completed 75 miles. From lap 19 onward, the 'super six' battled until the sunrise. All six runners stayed strong and earned their custom 24/100 iAthlete.club shirts. 4 of the six runners, Ohio natives Mike Rowe, Thomas Englehart, and Josh Staggers plus New York based Abby McCarthy reached their personal best at the 100 mark. They were also newcomers for 2020, and joined local race veterans Sarah Moore and Chris Mikolajewski on the final road loop.
Since all the runners looked fairly strong after 24 hours of running, the spectators, volunteers, and race officials were all surprised when only Chris, Mike and Sarah toed the line for the first trail loop of day 2. There was no clear favorite for the win at this point. Mike had run fast leading the field all night. Sarah was motoring along smooth and steady with her trademark smile, and Chris was looking exceptionally good, keeping everyone's spirits lifted as does every lap. No one had known that Chris had injured his foot early in the contest, and this added stress caused his retirement after lap 26. As in 2019, Chris' drop was sudden and surprising, and he would have to settle for 3rd place. He earned the respect of everyone after pushing through so hard on an injury without letting it affect his typical cheer.
Mike Rowe was now the unknown quantity. Only later, after the race, did everyone learn that lap 1 of this Ode to Laz was his first experience ever running on trails! As in all backyard events, the winner will only go as far as their assist runner can manage. Mike continued to put out a great effort, but seeing Sarah Moore steadily increase pace on each of the previous 3 trail loops was too much to comprehend. Sensing that Sarah was ready to run until September, Mike declined to start lap 28. Very impressive for a road runner with no previous races beyond marathon distance! Sarah Moore cruised along, and enjoyed every nervous minute of her 28th loop to claim her 2nd consecutive Ode crown. She committed to winning another Golden Ticket and making it 3 in a row July 10th, 2021. To help the international racers during this difficult time, Ode to Laz® is offering a limited amount of free entries for non North American racers. Contact Tad Machrowicz at innoformllc@gmail.com or +12488545469.